Making pet pharmacy a pawsitively flavorful experience!
Personalized medicine for your furry friend is just a few clicks away.
Pet meds made easy
Customized pet medicine made-to-order and delivered to your door for free.
Personalized one-on-one care
Auto refills, follow-ups, order tracking, and refill reminders. Plus a toy with every order!
Creative pet-approved solutions
Medicine that looks, smells, and tastes like a chew treat? Yes way!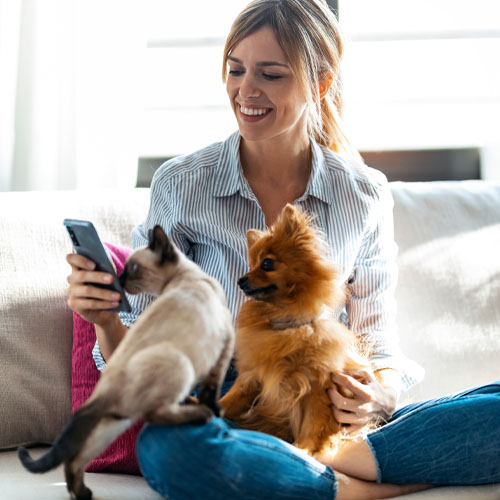 Communication made easy
Text to order refills or to ask our expert pharmacists medication related questions
Find the Medicine
Look up your pet's prescription by medication name
Personalize It
Choose from a variety of animal friendly dosage forms and flavors
Ship it Free
Personalized prescriptions delivered right to your door
There's more to Wood Dale Pharmacy. A lot more.
| | Human Pharmacy | Wood Dale Pet Pharmacy |
| --- | --- | --- |
| Every medication is made-to-order | No | Yes |
| Medications are as low as $1/day | No | Yes |
| Offers auto refills | Yes | Yes |
| Orders are reviewed by veterinary pharmacists | No | Yes |
| Offers 90 day supply | Yes | Yes |
| Free shipping on all orders | No | Yes |
| Private chat/ text consultation with vet pharmacists | No | Yes |
| A toy with every prescription | No | Yes |
Never wait in line at the pharmacy again.
We will bring your pet's medications right to your doorstep. Hassle-free.
Are You a Clinic or a Veterinarian?
Wood Dale Pharmacy is a state-of-the-art pharmaceutical lab, just for veterinary patients, with knowledgeable dosing experts who have years of experience dealing with animals.
Our compounding pharmacists work with the pet owners directly, freeing up you and your staff to do what matters most.
Do you get questions like these from your clients?
"I found Spot's pills under the couch. I think he's just eating around the pill pockets. What should I do?"
"Getting my cat to take her pills is really hard and stressful on her — There's got to be another way."
"I feel terrible every time I have to force him to take a syringeful of medication — can't we add a flavor he might like?"
If so, let us help.
Customized flavorings can turn pills into treats, and a liquid medication or transdermal can take the anxiety out of administering meds.
Doc, put us to work on your next tough case.
Everybody loves WDP
See why pets and their humans have rated us 5 stars on Google, Facebook, AND Yelp!
Lisa S.

Dog Mom

I am new to the area and needed a specific prescription for my little guy Monty. My vet called it in and once I heard from the staff they were able to have it ready within hours! They also included a little cute stuffed animal avocado!!! Monty has been walking around with his new toy all afternoon. Thank you Wood Dale Pet Pharmacy!

Lynn M.

Dog Lover

wow! We love our veterinarian now .... Upon seeking other medications for our 14 year old dog Simon, he referred us to Wood Dale. It is the most affordable and quickest delivery I have ever experienced. If I email the pharmacy or call direct - the staff are always knowledgeable of Simon's needs and it is expedited very very quickly. You guys are awesome. Thank You!

LS

Cat Mom

After years of dealing with retail pharmacies and continually having problems getting medication for our pets, a friend suggested I contact Wood Dale Pet Pharmacy. What a difference!! The most important one is that they care about your pet, not your pet and hundreds of people. They take the time to get to know you and your pet, work with your vet and provide solutions to help ensure your pet will take the meds. They are always pleasant and don't make you feel rushed, plus they will ship the meds if you need.

Jenny M.

Dog Mom

This is the most kind group of professionals ever! We have a tiny Yorkie who has been through two collapsed tracheas and stent surgeries. After his second we found Wood Dale Pharmacy. it changed our lives, having meds compounded down to his size eliminating all that pill cutting and uneven doses! He also loves the flavor and begs for more. This process used to be a battle. And the convenience of home delivery is the icing on the cake! Thank you Wooddale!!

Ali D.

Cat Lover

This place has made our lives so much easier in dealing with our beloved cat with chronic asthma. Their prices are reasonable, shipping is fast & the staff is exceptional. They have so many options & they will give you their honest opinion on flavors to mix & tricks to help make medicating your pet easier. The pharmacist has taken time to answer questions & give suggestions & every time I call, Allison delivers the best customer service! A rare find in pet pharmacies these days
We've got your back
The cool thing about being a veterinary only pharmacy? It's all we do. And we like to think we do it best.
Click here to see the full list of animals we treat.
Still have questions?
Why does my pet need compounded medication?
Compounded pet medications are made-to-order with the unique needs of animals in mind. Your pet may benefit from using a compounded medication if they have a specific medical need that cannot be addressed by an FDA-approved drug. An example of this could be:
Your pet has difficulty taking pills
Your pet needs medication in a strength that is not available
Your pet is allergic to an ingredient in their medication
How much will it cost?
With some exclusions, most maintenance medications cost less than $1 a day when you order a 90-day supply.
Can you deliver my order to me
Why, of course! All medications over $59.65 ship for free and most medications are delivered within 2 business days once shipped.
How long will it take to receive my order?
Most new orders received by 12Pm CST are shipped out the SAME DAY. Orders placed after 12 PM CST are shipped the next business day. Refrigerated packages are sent Monday through Thursday. Shipping times are dependent on the courier service being used but typically do not take longer than 2 days.
How much does it cost to ship my order?
Wood Dale Pet Pharmacy offers fast and free shipping on ALL orders over $59.65. Orders are shipped via USPS First Class with Tracking. We also ship via FedEx and UPS.
How can I tell my vet to send my pet's prescription to Wood Dale Pharmacy?
You can provide your vet with the contact information for the pharmacy to get the process started. Alternatively, we can also get in touch with your vet on your behalf.
The best way for your vet to send in a prescription safely and securely is through our Online Vet Portal. They may also call us toll free at 866-686-2396 or fax us your pet's prescription at 866-231-2664.
Can I still place an order if I don't have a prescription on hand?
Yes! A prescription is not needed to place an order.
For new orders, click here to tell us more about your pet, the medication they are on, and their vet. We will contact the vet on your behalf to request a prescription.
For refills, simply give us a call or send us a text at 630 509 0909
Chill Pills do not require a prescription. Click here to start shopping.
I still have more questions
Check our Help page for the complete list of questions we have answered for you. Alternatively, you can simply give us a call or send us a text at 630-509-0909 to talk to one of our friendly vet pharmacists.
From Our Blog
7 Things You Should Know Before You Go Hiking with Your Dog

Most dogs are a Grandma Gatewood at heart – waiting to put their Ked sneakers on to solo thru-hike their way through life. If they could speak, they'd be shouting at the top of their lungs to let them tag along on your Appalachian adventures. With dog-friendly hiking trails becoming increasingly popular across the country,…

What Does Your Dog's Astrology Sign Say About Their Personality?

Why does Nancy's lab love Smith's over-excited pug but not Amanda's moody maltese? Why does he love going on a trip to the waterpark but absolutely hates going to the markets? Why doesn't his wishes and fancies match those of his same-breed brothers-in-paw? Um, is it possible that our dogs are connected to the Astroworld?…

5 Common Diseases That Can Affect Your Dog

Here's a universal truth: A high-wagging tail makes dog parents happy. But sometimes, those tails wag a little less—that's when our doggos are sick. Let's learn how to identify the 5 most common dog diseases and their prevention and treatment! 1. Periodontal Disease Periodontal disease, periodontitis, or gum disease is a dental gum infection that…
We make it easy
See how we personalize pet meds to make medicine time for your furry bestie easy and stress-free!